Heraldic Bed Hangings
One of the principal items of furniture in the medieval household was a large heavy wooden bed, in which the lord and lady of the manor/castle slept. Beds of this kind had springs made of interlaced ropes or strips of leather. These springs were usually overlaid with a feather mattress, sheets, quilts, fur coverlets, and pillows. Many of these types of beds could be dismantled and taken along on the frequent trips a great lord made to his castles and other manors. The bed was often curtained, with linen hangings that pulled back in the daytime and closed at night to give privacy as well as protection from drafts.
Charles VI with Pierre Salmon
1412 Bibliotheque Nationale
Publique et Universitaire
Illumination Henry VIII
Henry's Psalter, British Museum
Annunciatie c.1440
Rogier van der Weyden
Louvre, Paris
As part of the modern medieval experience, the SCA runs regular camping events, where we attempt to create an environment that suspends reality and leaves the mundane world behind. When camping at SCA events, there are many things we can do to enhance our medieval camping experience that assist in creating an ambiance. Sleeping in period style tents and pavilions, using medieval furniture, crockery, cutlery, all add to the ambiance as much as wearing period style clothing. Banners and display in the campsite can also greatly add to the atmosphere.
This article compiles the notes and methods employed to create some heraldic bed hangings to enhance the aesthetics and functionality of my medieval camping bed. The medieval bed itself, was commissioned from Cockerel Carpentry and hand crafted by Master Ulfgar the Unspeakable. It is queen size and made of solid jarrah. Jarrah is an Australian hardwood timber that is deep red-brown in colour and traditionally used for high quality indoor furniture. In the medieval tradition, this bed was designed to be easily dismantled and transported. It has a slat base and a high density foam mattress, rather than a feather mattress and these alterations from medieval precepts are concessions made for modern necessity (owner's bad back!). A four poster rail structure, made from 30mm jarrah dowel lengths, allows the addition of a canopy and bed hangings/curtains which can be closed to insulate against the cold, add privacy and complete the aesthetic.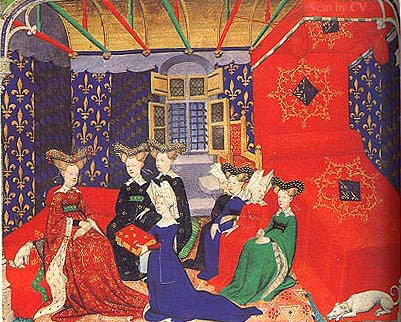 Christine de Pisan presents a book of her work to Isabella of Bavaria c.1420
British Library Harley MS4431 Slater (Pg16)
The manuscript illumination above depicts Isabella of Bavaria, Queen of France and wife of Charles VI (c.1420) being presented with a book of works by the poet Christine de Pisan (Evans, pg 121). The image depicts the chamber heavily decorated with heraldic wall hangings and lavish red bed hangings which also incorporate the owner's heraldry. It is on the design seen on these bed hangings that I have based my own decorative bed hangings.
NB - It is possible that the designs seen in the illumination were an artistic representation only.
Drafting The Design
The initial task was to draft a cartoon of the complete design. I did this by hand, by visually inspecting the depiction in the illuminated painting and then correcting the perspective to be square. I decided to use braids and couching cord to apply the design to my ground fabric.
| | |
| --- | --- |
| William Addemere | Sabine du Bourbonnais |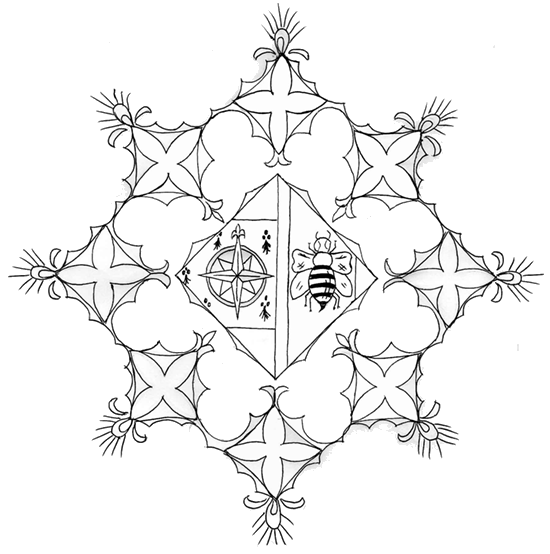 Cartoon of design as extrapolated from the illumination.
Transferring The Design To Fabric
Once the cartoon has been drafted, the design needs to be enlarged and transferred to the fabric, there are a couple of methods depending on your available resources that can make this quick and easy:
Scan the image and use a data projector
Copy the design to an OHT
Failing that, use a grid and scale it up by hand
After transferring the design to an over head projector transparency, it can then be easily enlarged to desired size. A section of blank wall, a white board or a glass sliding door can be used to attach your ground fabric to. The image can then be projected directly you're your fabric. This technique is useful when transferring any design for a larger project - such as banners or wall hangings.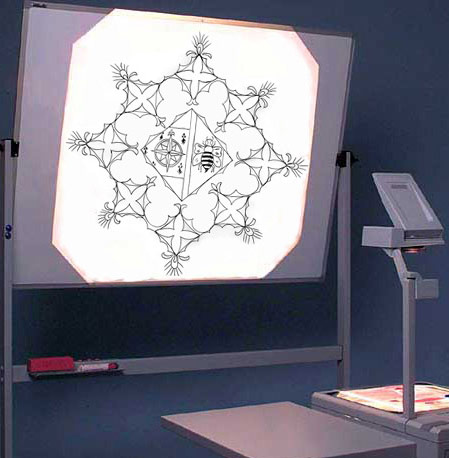 Using an OHP to enlarge designs.
Working The Embellishments

Once the cartoon had been transferred onto the fabric, I used a number of different techniques to pick out the design. The centre sections depicting the heraldry were painted using Permaset screen printing fabric paints. This was done by hand using small paint brushes, and then heat treated for durability.
The outer lines of the design were done in various braids and cords sewed onto the ground fabric following the outline of the transferred cartoon design. As the design was being worked twice (once for the backdrop and once on the coverlet), and there was metres and metres of couching in each design, this project was done using a sewing machine fitted with a special couching foot.
| | |
| --- | --- |
| Completed design. | Detail of couching and painting. |
Tab Top Curtain Construction
Tab top curtains generally are the exact size of the window or space they are covering and don't tend to have a lot of fullness in them. Each rail on the canopy bed, supports two tab top curtains that pull apart from the centre, so each curtain is half the size of the length it is spanning. The finished length of the curtains was determined by the height of the bed - they fall just short of floor length.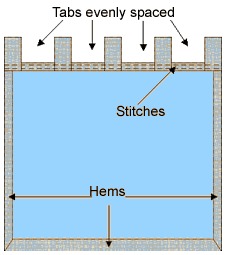 I chose to make my curtains out of blue cotton poplin because we live in a normally warm climate and it was an economical choice of fabric. The selection of a plain fabric seemed the most obvious choice as this reflected the majority of bed hangings examples I encountered. There are examples of patterned fabric used for bed hangings, though these seem to occur less frequently.
Tricolour Fringing

When researching through medieval imagery we often come across an interesting design element that appears to be a bicolour or tricolour fringe or tassel. It appears to be specifically made with interchanging colours. This type of tassel or fringe appears frequently in period manuscript illuminations and paintings as decorative embellishments on bed hangings, on gonfalon and standard style banners and even as edging on heraldic tabards. Unfortunately, while not totally unheard of, it is not a commonly made modern habbadashery staple. In order to make some tricolour tassel for my bed hangings, I purchased three colours of the same type of tassel.

I then cut the tassel into equal length strips, and applied a LOT of Fray-Stop to the ends of each section to discourage the tassel from unraveling and fraying as I worked with it. I then sewed these individual sections end to end onto a strip of drill cotton, to minimize the sections moving. This then became one long length of tricolour fringe which was then sewed around the edge of the canopy, in between the outer fabric and the lining fabric of the canopy. This kept all the cut and Fray-Stopped edges neatly inside the canopy where they would not be visible and would not receive any wear.

Canopy Construction
The shape of the canopy is effectively that of a box lid. It consists of a flat section that reflects the exact length and width of the bed to which are attached side sections that hang at right angles main centre section.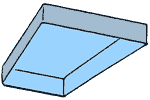 The additional couching was completed onto the outside layer of the canopy only, before it was attached to the lining. This canopy is fully lined which allowed for the entire canopy to be sewn by machine and then turned out so all seams would be hidden. Depending on your design and construction technique, it need not be lined like this mine.
Painted Shields
One of the design features that Master Ulfgar incorporated into the bed design were some cut work for some shield shapes to be added into the headboard. These have corresponding wooden shields that are removable from the back of the bed and are painted with devices. Should the bed ever change ownership or should we choose to alter our devices - these can easily be removed and repainted to reflect any alterations or new owners.
Assembled Bed With Hangings
The bed was when all assembled with the tab top curtains, the backdrop, canopy and coverlet creats a very cosy camp bed that creates a fabulous medieval interiour for camping events. Once the soft furnishings are all hung the complete bed looks like the picture below.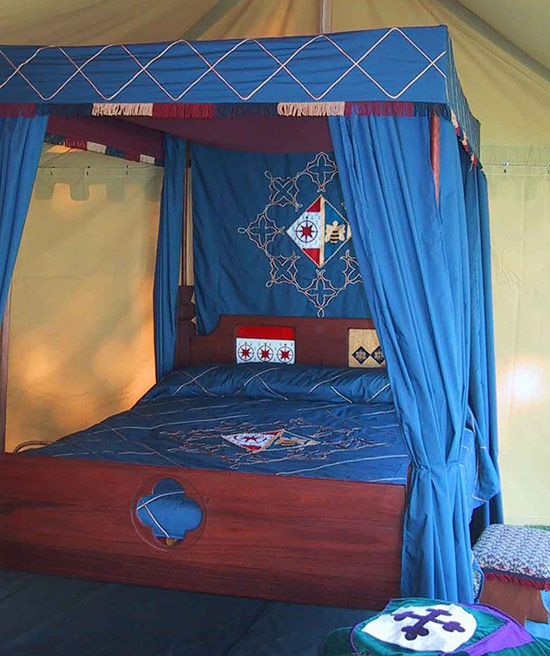 Bibliography
Bartlett, Robert Medieval Panorama
Thames & Hudson Ltd, London 2001
ISBN 0892366427
Cantor, Norman F - The Pimlico Encyclopaedia of the Middle Ages
Random House, London, UK 1999
ISBN 0892366427
Evans, Joan - Flowering of the Middle Ages
Thames & Hudson London, 1985
ISBN 0500280436
Gardner, Sue - A-Z of Embroidery Stitches
Country Bumpkin Publications, 1997
ISBN 0646320025
Slater, Stephen - The Complete Book of Heraldry
Lorenz Books, London 2002
ISBN 13579108642
Web References