The Miniature
During the first reign of Nerissa and Alaric in the Kingdom of Lochac, I created some personal standards for their Majesties. In return Countess Nerissa, (now Duchess Nerissa) created this miniature portrait for me as a gift.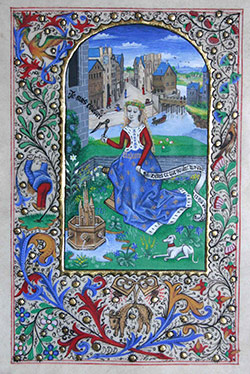 In the portrait, I am depicted wearing an heraldic sideless surcote that has an ermine bodice and a blue skirt covered in gold bees. The miniatrure is based on the original illumination below that depicts Lady Eloquence. The actual illumination is 13cm x 8cm in size.
The mottos that have been incluced in miniature are:
"Je suis Couvert" - "I am covered"

and

"Dites ce que voulez dire vous et signifiez ce que vous dites" - "Say what you mean and mean what you say"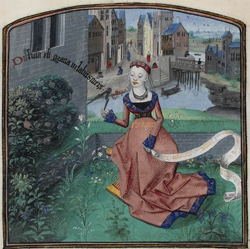 Jean Robertet, Georges Chastellain, and Jean de Montferrant,
Les douze dames de rhétorique. Flanders, Bruges, 1467-1468
The original owner of this manuscript was Jean de Montferrant. He was chamberlain of Philip the Good, tutor of the young Jacques de Bourbon.
"It preserves the account of an extraordinary event, the appearance of twelve ladies, the delightful companions of Rhetoric. Their solo acts are depicted by the Master of Anthony of Burgundy (active c.1460-1480), who specialised in the illustration of secular texts. Eloquence is shown here in the garden of a stately home overlooking the streets and canals of Bruges."
Cambridge University Library,
MS Nn.3.2, fol. 27v