Heraldic Tabards
On the medieval battlefield and at tournament, a knight is frequently depicted wearing an outer garment over his armour that often bears an armorial display.This display allows identification of the knight when his features are obscured by his great helm in the chaotic environment of the medieval battlefield.The design of the garments varies quite considerably over different periods and cultures.The following is a brief description of some different styles, designed to give the SCA newcomer an introduction and is by no means complete.
A surcoat may be defined as being a long coat, and was often sleeveless.Surcoats first appear in the middle of the 12th century and towards the end of the 13th century.Examples of them emblazoned with arms are commonly found in illuminated manuscript images and on tomb effigies.By the middle of the fourteenth century, the surcoat had given way to the later period armorial jupon.
EdwardIII receiving royals arms of England from St George from Milemete Treatise c1327 Coss (pg88)
Christ Church, Oxford MS 92, fo3
Manesse Codex, circa 1300-1320, Zurich, Heidelberg, Universitätsbibliothe
Manesse anthology 1300-1350 (Cod. pal. Germ. 848, fol. 64 recto)
A jupon is a shorter sleeveless coat worn fitted around the torso, which was worn over armour from around 1350 to 1430. Examples of these can be found in illuminated manuscripts depicting battle scenes, as well as on brass monuments and tomb effigies.
Battle of Najera c1367
Edward Black Prince and Enrique II of Castille
Jean Froissart, Chroniques 15th C
Bibliotheque National de France, Paris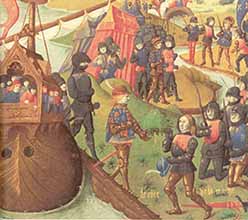 Henry VI disembarks in France
A tabard is a looser style of surcoat, which superseded the jupon in the first half of the fifteenth century.The armorial tabard is often depicted emblazoned with arms on the front, back and on both or either sleeve.
Knights of St John receiving orders from GM Pierre d'Abusson
c. 1486 Slater (pg 153)
Duke of Lancaster - Bruges Garter Book
(British Library MS Stowe 594, fo 17v
Coss (pg 158 )
Order of Knights Hospitaller
Herald's Tabards vs Knight's Tabards
Many examples depict knights wearing surcoats and tabards emblazoned with their own arms. Soldiers are frequently shown wearing tabards depicting heraldic devices or colours that display their affiliation and allegiances to their particular liege lord.
It is possible that heralds first wore second hand tabards from their lords, as a mark of favour and acknowledgement of the special relationship between a knight and his herald.Wearing his Lord's armorial tabard clearly indicated that he has his master's favour and protection and indeed spoke with his master's voice.The knights' tabard as depicted in manuscripts etc, appears often indistinguishable from a heralds tabard for this reason.
Heralds depicted in a tourney book of Henry VIII (1509-15474)
London College of Arms 1511.
Paston-Betingfeld & Gwynn-Jones (pg 24)
Brandenburg Purvsuivant, (1413-1471)
London. BL. ms Add 15681 Folio154v
Neubecker (pg 19)
SCA Heralds
For SCA purposes, most heralds tabards carry the device of the SCA College of Heralds (vert, two trumpets crossed in saltire, or), while tabards for individual SCA knights and fighters are normally emblazoned with the bearer's personal arms only.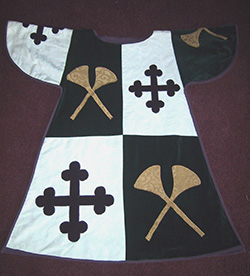 Tabard of the Bottony Pursuivant, Baronial Herald of St Florian de la Riviere
Marshalling
Marshalling is the heraldic practice of placing ones arms alongside another's in halved or in quartered panels depicting an individual's lineage.This practice is not encouraged in the SCA, as it is considered pretentious due to the implication that the arms are inherited.Care should be taken when displaying connections to other people, households, or groups etc, on surcoats, tabards and shields to avoid the appearance of marshalling and thereby implying an inherited position.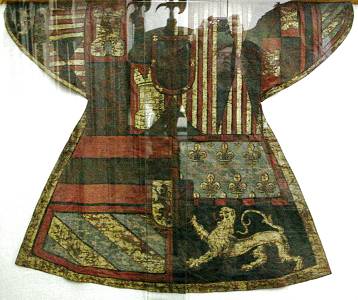 Marshalling depicted on an extant tabard of 15th Burgundian origin.
On some of the SCA tabards depicted at the end of this article, the appearance of inherited arms has been deliberately avoided in many cases. Instead group affiliations have been incorporated on sleeves and in escutcheon rather than by use of marshalling.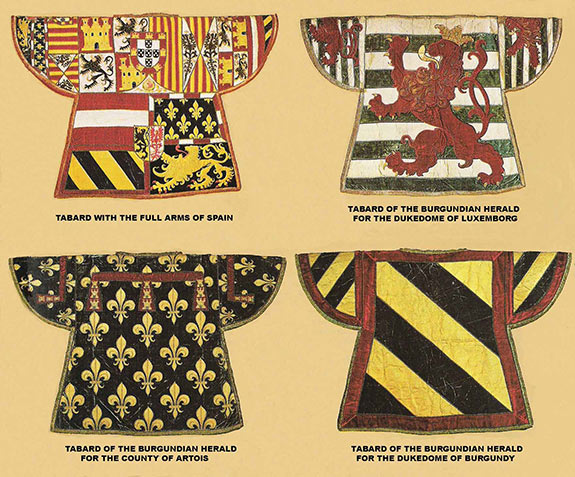 Extant tabards c15th Century
Vienna Kunsthistoiriche Musem Nos III to 1; XIV 83; XIV 85; XIV96
Freelance Heralds
Freelance heralds were heralds who weren't associated with any particular Lord and as such had a less formal style of heraldic tabard decorated with small plain or 'generic' armorial shields or shields with plain simple armoury rather than those with a large coat of arms (Neubecker Pg 18).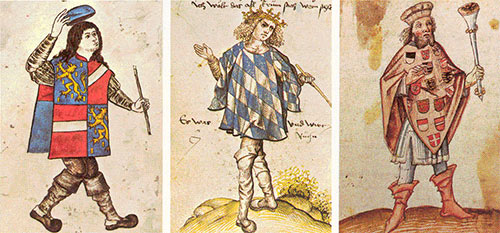 Freelance heralds decorated in their tabards with plain armorial tabards.
Neubecker (pg 18)
SCA Tabards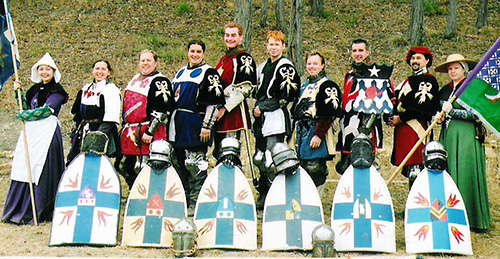 Whyte Companie of St Michael
Within the Society of Creative Anachronism all member and participants are encouraged to adopt arms and have them registered with the SCA College of Heralds.Making an SCA fighting tabard depicting a fighter's registered arms allows fighters, followers and consorts to have a distinctive presence on the war field or in the tourney lists.
Many individuals may end up making a number of differing tabards and surcoats to suit their particular alliances for particular occasions.Tabards depicting one's personal registered arms for tourneys perhaps, household tabards or similar for use in heraldic melee or war scenarios and perhaps even Baronial tabards or Champions tabards or Guards tabards for courts or war situations.
HRMCornelius von Becke
his tabard bears the arms of Lochac
Sir Master Leofric Willoughby Broke
his tabard bears his registered arms.
| | |
| --- | --- |
| Ventbarre Household in matching surcoats | Baron Sir Gabriel de Beaumont |
| | | |
| --- | --- | --- |
| Sir Philippe du Lac | Lord Henri de Monferrant | Master Stefan Glaube |
| | |
| --- | --- |
| Der Draigen Rhuad | Moralez Beaumont Household in matching surcoats |
An easy to follow tutorial can be found here for producing a 15 century Burgundian style of tabard.
Bibliography
Cantor, Norman F - The Pimlico Encyclopaedia of the Middle Ages
Random House, London, UK 1999
ISBN 0892366427
Fox-Davies, A.C - The Art of Heraldry
Bloomsbury Books, London, UK 1986
ISBN 0517187892
Hallam, Elizabeth - Chronicles of the Age of Chivalry
Crescent Books, England, 1995
ISBN 0517140802
Holme, Bryan - Medieval Pageant
Thames & Hudson, London 1987
ISBN 0500014213
Paston-Betingfeld & Gwynn-Jones
Medieval Pageant Thaemes and Hudson, London, 1986 ISBN 0500014213
Neubecker, Ottfried - Heraldry - Sources, Symbols and Meanings
Tiger Books International, Twickenham, 1997
ISBN 1855019086
Slater, Stephen
The Complete Book of Heraldry Lorenz Books, London, 2002 ISBN 13579108642
Woodcock & Robinson - The Oxford guide to Heraldry
Oxford University Press, London, 2001
ISBN 0192802267
Coss, Peter - Heraldry, Pageantry and Social Display
Boydell Press, London 2002
ISBN 0851158501