About Sabine
Amongst SCA circles, I am known as Her Ladyship, the Honourable Maîtresse Sabine du Bourbonnais, daughter of La Parentiara, member of Ravning Household, friend of the Free Companies of St Michael, resident of the Barony of St Florian de la Riviere and citizen of the Kingdom of Lochac.
I attended my first SCA event in 1995, participating as a member of the Abbey Medieval Festival and then more officially joined the SCA in 1996. Since joining the SCA, I've had the opportunity to try my hand at many creative pursuits - costume designing, sewing, embroidery, leatherwork, fabric stenciling, pewter casting, jewellery design, banner painting, metalwork, canopy construction, hall decorating, cushion making, calligraphy and I know not what! The opportunities for creative expression in the SCA are limitless, and many of us eventually turn our hand a wide and varied number of different fields over the years.
Since joining way back when… my most enduring interest has been in the areas of Heraldry, Heraldic Display, Pageantry and Heraldic Design. I enjoy employing my efforts towards working on the visual aspects that enhances the atmosphere at our events which helps us suspend the stressors of modern living and imagine ourselves living in simpler times. My interest in heraldic display has permeated it's way into most of my creative pursuits over the years, which can be seen in most of my projects. I've spent quite a lot of my efforts over the duration attempting to increase the display of my own personal heraldry, as well as encouraging my Family, my Household and my Barony to do the same.
My own heraldry was registerd in September 2002 (my name was registered in May 2000):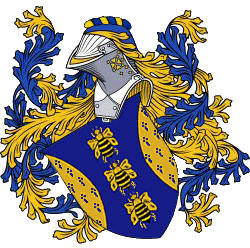 To encourage more period style of heraldry in my Barony, I took on the office of Baronial Herald - the Bottony Pursuivant in the Barony of St Florian de la Riviere in 1997, and held that position until January 2004. (Read: I embarked on a subtle, yet determined campaign to increase awareness for the necessity to reduce the prolific use of domestic cats, unicorns, hearts and rainbows in registered SCA devices!) During that time, I worked with many good gentles to assist them to get their devices registered with the SCA College of Heralds. The Barony of St Florian had always been reknown for their amazingly talented artisans, and we've also become well known for our flair for pageantry as well.
One of my main aims as group herald was to encourage people to display their devices whenever possible. Covering your SCA equipage with your badge works great as a mark of ownership, as well as adding considerably to the ambiance to our modern medieval endeavours. My gold bees proliferate most of my SCA items and projects and can been seen on all my banners, scattered throughout my campsite, adorning my clothing, crockery, cutlery, represented in my jewellery and dress accessories and even sneaked into my embroidery projects… they're positively everywhere! I think my bees have become more recognizable than myself at this point.
I stayed in the role of Buttony Pursuivant until January 2004, at which time I took on the role of Crux Australis Herald - Lochac's principal herald. It's a very time consuming, labor intensive role, done largely behind the scenes… the sort of job that no one notices when it's running smoothly, but it sure causes major headaches if it isn't! I had never aspired to take on this office and was luckily only required for a caretaker period of approximately 10 months. It's a job and a half, and my hat is off to anyone who's willing to undertake it for a full term… for me - never again! I'd much prefer to spend my SCA energies in other directions.
Like most SCAdians, I've spent incalculable hours over the years working on various creations. Many hours have been dedicated to preparing class notes and project workshops on various Heraldic Display topics and I've decided to share these notes online on the off chance that it might be of some use to others with similar interests. I feel compelled to point out that while I have a Bachelors Degree in Visual Arts, and I have studied some areas of Art History, I am certainly not an historian, a professional scholar or an expert of any nature in these fields. The total sum of knowledge that I have acquired though my years of being in the SCA is a mere tip of the iceberg of what I would like to know should I have the time to research interests further.
So please enjoy, feel free to send your thoughts to 'sabine at three gold bees dot com', and take away what you will.

SCA Awards
Lochac Kingdom Awards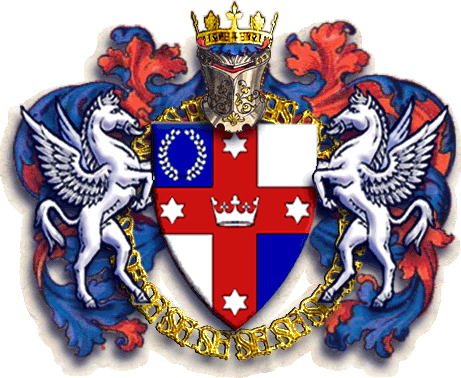 Award of Arms given by HRH Cornelius III and Morwynna III at Michaelmas Feast (20 June 2000)
Silver Tear given by Gawyne I and Yve I at Baroness' Birthday Par D'Armes (29 June 2002)
Golden Lily given by Cornelius I and Morwynna I at St Florian March Baronial (on 15 Mar 2003)
Golden Tear given by Ædward I and Yolande I at Midwinter Coronation (3-4 Jul 2004).
Queen's Cypher Yolande I at Midwinter Coronation (3-4 Jul 2004).
Royal Cypher given by Ædward I and Yolande I at Midwinter Coronation (3-4 Jul 2004).
Grant of Arms given by Stephen I and Matilde I at Baronial Investiture of Giles and Maud (18 Jun 2005).
Order of the Laurel given by Beregnar I and Bethan I at Great Northern War (6-8 Jun 2008)
Royal Cypher given by Cornelius III and Elizabeth I, at Fields of Gold (16-18 Dec 2011)
Royal Cypher given by Felix I and Eva I, at Great Northern War XV (7-9 Jun 2013)
Rowan given by Niáll I and Liadan I, at 30th Anniversary Baronial Championship (14-15 Sep 2013)
Royal Cypher given by Niáll I and Liadan I, at An Eastern Affair, Baronial Championship (23 Nov 2013)
Royal Cypher given by Niáll II and Liadan II, at November Crown AS 49 (31 Oct - 2 Nov 2014, Yass).
St Florian de la Riviere Baronial Awards
Award of the Metier given by Constanzia and Gabriel St Sebastian's Day Feast (26 January 2002)
Award of the Bouget given by Constanzia and Gabriel at St Florian Investiture (29 July 2001)
Order of St Florian given by Constanzia and Gabriel